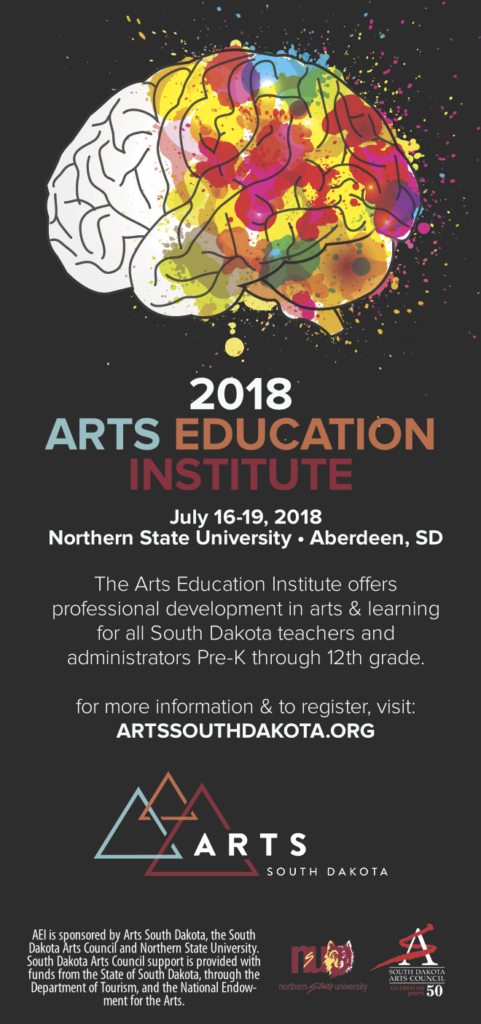 SAVE THE DATE:  20th annual Arts Education Institute
July 15-18, 2019
Registration opens March 2019
Coming in 2019 – Band Director Institute at AEI!  Watch for more information soon.
---
The Arts Education Institute (AEI) offers professional development in arts and learning for all South Dakota teachers and administrators Pre-K through 12th grade.
AEI offers an educational and fun-filled week of learning to infuse the arts into classrooms and curriculum development. This year hands-on art, theatre and music workshops offer many opportunities for all Pre-K through 12th grade educators July 16-19 at Northern State University in Aberdeen, South Dakota.
You DO NOT need to be an educator to attend AEI, we encourage everyone to attend.
AEI is offered for up to two graduate, undergraduate, recertification (CEU) or career technical (CTE) credits.
​
Questions?  Email Shari Kosel
Class sizes are limited!  We urge you to sign up early to get the workshops you prefer.
AEI is sponsored by Arts South Dakota, the South Dakota Arts Council and Northern State University.
South Dakota Arts Council support is provided with funds from the State of South Dakota,
through the Department of Tourism, and the National Endowment for the Arts.
REGISTRATION REQUIREMENTS:
Participation is open to educators who complete the registration requirements.   Workshops are on a first come basis and are limited to 12 participants. After June 1st registrations are accepted on a space available basis.  Register online with the button above. Workshops with at least eight students will be confirmed, while those with fewer than eight registrants are subject to cancellation.
PROGRAM FEES PER CREDIT (TWO CREDIT MAX)
Early Bird Registration fee $50 per workshop due by June 1, $60 after.
Housing fee $25 per night per person (pay at the time of check-in ) All rooms are SINGLE rooms.
Graduate/undergraduate $40 per credit (payable at time of registration 7:30-8:15am 7/16)
Renewal credits available for no extra charge
​SD DOE Renewal Application & Requirements
HOUSING
Residential participants stay in air-conditioned suites in the Kramer Hall.  The suites are available for a $25 per night for a single room.  Each room has twin bunk beds with a common area and bath unit in each suite.  Bed and bath linens are not provided. Housing registration is from 6-8pm on Sunday. Rooms are available Sunday through Thursday night.
Single Suite:
$25.05/night
$50.10 2 nights
$75.15  3 nights
$100.20  4 nights
$125.25 5 nights
LOCATION
Classes are held at Northern State University 1200 South Jay Street, Northern State University.  Workshops will be in held in Dacotah Hall, Spafford Hall and Krickac Auditorium on campus.
MEALS
Einstein's bagel and coffee shop summer hours are from 7:30- 2pm  available in the Student center.
CANCELLATION POLICY
Please notify us of a cancelation as soon as possible by contacting Shari Kosel.  Full refund before June 16.
SESSION DATES:
JULY 16-19
Participants can choose two intensive two –day workshops meeting Monday/Tuesday and Wednesday/Thursday 8:30am-5:00pm.