ARTS SOUTH DAKOTA INDIVIDUAL DONORS
Arts South Dakota sincerely thanks the amazing individuals who join in our mission of advocacy, service, and education for the state's many creative communities. The combined power of their voices advocates for and develops our state's arts ecosystem, and we could not do this work effectively without doing it together. Make sure your voice is heard–add your name to this list by donating today!
Individual donors and their most recent sustaining gift to our Annual Fund from July 1, 2019 to September 3, 2021 are listed below.

$0 to $99
Doris Symens Armstrong, Watertown
Helen Arnold
Amanda Bachmann, Pierre
Carol Bailey, Rapid City
Phil and Jill Baker, Sioux Falls
David Barber
Rich Barnett, Sioux Falls
Linda Bartholomew, Faulkton
Anne Beckwith, Eagle Butte
Don and Janet Beeman, Vermillion
Marsha Bertsch, Yankton
Lisa Blake
Melanie and Norman Bliss, Sioux Falls
Margaret Blomberg, Sioux Falls
Dave and Linda Bonde, Fort Pierre
Pam Borglum
Bob Bosse
Elizabeth Bowling, Canton
Philip Breland
Rosemary Buchmann, Martin
Susan Burgard, Pierre
Birgit Smith Burton
Tim and Monica Campbell, Brookings
Anna Christensen
Linda Clement, Sioux Falls
Kay R. Coddington, Sioux Falls
Caitlin Collier, Vermillion
Tami Comp, Winner
Gypsy Cowbelle, Thermopolis, WY
Claudia Dail, Sioux Falls
Sherry DeBoer, Chaska, MN
Ann and Tim Deckert, Rapid City
Margaret Denton, Brookings
Lawrence Diggs, Roslyn
Don and Mary Downs, Rapid City
Kira Dylla, Sioux Falls
Verna L. Edinger, Plankinton
Beverly Daniel English, Sioux Falls
Patrick Feeley
James Fishback, Sioux Falls
Ellen Fockler, Reno, NV
Laurel Foster, Aberdeen
Cathy Frederickson, Box Elder
Barry Furze, Sturgis
Julie Garreau, Eagle Butte *
Bette Gerberding, Brookings
Chaya & Ryan Bland, Vermillion
Doris Graeber, Sioux Falls
Dr. Larry Green, Madison
Dorothy Grupp
Terry Hall and Kristi Vensand-Hall, Tea
Arline Hammer, Pierre
Mark Hanson
Rosemarie Hanssen, Sisseton
Paul Harens, Yankton
Harry and Helen Harryman, Pierre
Anne F Hatch, Rapid City
Rick Hauffe
Donna Hazelwood, Madison
Connie Herring, Sioux Falls
Steve Hoffman
Josh and Rose Ann Hofland, Sioux Falls
Dennis Hopfinger and Carolyn Clague, Brookings
Cheryl Whetham and Jukka Huhtiniemi, Hill City
Larry & Hilea Hutchinson, Belle Fourche
Lin Jennewein, Rapid City
Charles J. Johnson, Madison
Brian Jones, Spicer, MN
Robert Joyce, Sioux Falls
Mildred Juel, Brookings
Diane Kehrwald, Pierre
Dick and Cindy Koch, Sioux Falls
Bobby Koeth III
Rev. Linda Kramer, Hill City
Marilyn Kratz, Yankton
Brenda Lanphere, Aberdeen
Beverly Letsche, Saint Lawrence
Ruth Lippincott
Lori Long, Spencer
Andrea Maestas, Rapid City
Paula Manley and Jim Knutson, Spearfish
Dan & Anne Marie Manning, Vermillion
Mary Jo Marcy, Custer
Cindy Marohl, Sisseton
Lynn and Frank Mason, Hot Springs
Joseph and Norma McFadden, Houston, TX
Monica McGowan, Custer
Kent and Zindie Meyers, Spearfish
Patricia Miller, Fort Pierre
Deborah Mitchell, Rapid City
Jody and Jim Moritz, Faulkton
Rodney and Marla Mosiman, Onida
Mike and Kathi Mueller, Pierre
Sandra Nelson, Pierre
John Marius Nelson, Sioux Falls
Sandra Newman, Rapid City
Sonja Niles
Nancy Olive, Sioux Falls
Jami Olson, Spearfish
Phyllis Packard, Vermillion
Ann Parker Weckwerth, Watertown
Estelle Reierson Pearson, Sisseton
Gail Perry, Chapel Hill, NC
Byron Petersen, Veblen
William T. Peterson, Canton
Bea and Herschel Premack, Aberdeen
Sharon Prendergast, Sisseton
David Reynolds, Brookings
Brad Richardson, Hot Springs
Bonnie Riggenbach
Cristen J. Roghair, Okaton
Susan Wold Rohde, Sioux Falls
Larry & Marilyn Rohrer, Beresford
John Rychtarik, Brookings
Traci Samelson, Redfield
Greg Schmitz, Sioux Falls
Lea Ann Schramm, Yankton
Marica Shannon, Mitchell
Betty Sheldon, Aberdeen
Craig Sherman, Yankton
Lisa Shoemaker, Rapid City
Thomas Andrew Simmons, Sioux Falls
Dr. Susanne Skyrm, Vermillion
Evie Slaathaug
Shirley Sneve and Thomas Rickers, Lincoln, NE
Vance and Virginia Sneve, Rapid City
Mark and Rose Speirs, Deadwood
Jan Speirs, Hot Springs
Linda Stuerman-Purrington, Brookings
Ann Taecker, Watertown
Lisa Tainter
Todd Thoelke
Judith Thompson, Orange City, IA
Lori Thompson, Wrentham, MA
Cary Thrall, Lead
Rose Marie Tornow, Sioux Falls
Daryl Upsall
Carrie Vecchione, Saint Paul, MN
Nan Venhuizen, Sioux Falls
Debby Walker, Glenham
Dennis and Julie Walkins, Spearfish
Livia Wallace, Aberdeen
Linda and Jon Wiley, Spearfish
Roberta Williams, Pierre
Ruth Williams, Wakonda
Lisa Wilson, Spencer, IN
Sharon and Marty Winckler, Harrold
Hunter Winklepleck, Sioux Falls
Milo Winter, Rapid City
Phyllis Wipf, Deadwood
Barbara Wood, Fort Pierre
Carol Wright, Sioux Falls
David Xenakis, Sioux Falls
Dee Yaroch
Dana Yost, Sioux Falls
Judith Zwolak, Vermillion
$100 to $249
Sheila Agee, Brandon
Ariadne Albright, Vermillion
Susan Arnott, Wessington Springs
Janelle Atyeo, Sioux Falls
Patrick and Jennifer Baker, Pierre
Nan Baker, Sioux Falls
John Banasiak, Vermillion
Dr. Margaret Downie Banks, Vermillion
Reuben Bareis, Rapid City
Nancy Anne Barker, Hot Springs
Joseph Bartmann, Montrose
Angela Behrends, Madison
LeEtta Bennett, Salem
Dar Berkenpas & Boyd Bristow, Sioux Falls
Lance Bertram, Pierre *
Bill J. and Jane Bobzin, Yankton
Anne Bodman and Andrew Hollander, Sturgis
Jim and Glenna Books, Rapid City
Greg Boris and Joan Reddy, Sioux Falls
Stacy Braun, Aberdeen *
Ruth Brennan, Rapid City
Bill and Cathleen Britton, Sioux Falls
John E. Brockelsby, Rapid City
Roger and Merlene Broer, Hill City
Allen and Gloria Brown, Dell Rapids
Susan Callahan, Rapid City
Dick and Ginger Carstensen, Sturgis
Bob Carter
Jim & Deann Clark, Sioux Falls
Mike and Judy Connor, Sioux Falls
Janet B. Cronin, Gettysburg
Marty Davidsohn, Sioux Falls
Beth Deiter, Faulkton
DeVee and Kevin Dietz, Sturgis
Kara Dirkson, Sioux Falls
Daniel Doyle, Sioux Falls
Darlene Dulitz, Webster
Carla Fauske and Peter Lieberman, Sioux Falls
Van and Barbara Fishback, Brookings
Richard Fisher, Rapid City
Rod Fouberg, Aberdeen
David J. Fraher, Minneapolis, MN
Eugene Friedrichsen, Aberdeen
Jacqualyn & Peter Fuller, Lead
Karen A. Gerdes, Pierre
Kathie and Rudy Gerstner, Yankton
Carol Cook Geu, Vermillion
Christine Goldsmith, Rapid City
Michael and Marnie Gould, Rapid City
Jeff and Darlene Hallem, Pierre
Cheryl Halsey, Springfield
Steve and Monica Harding, Pierre
Phil and Kiki Hegg, Sioux Falls
Scott and Susan Heidepriem, Sioux Falls
Erik Heikes, Rapid City
Susan Hines, Rapid City
Mikel and Deborah Holland, Pierre
Jim and Katie Hood, Spearfish
Dr. Craig Howe, Martin *
Mildred K. Hugghins, Brookings
Rick and Patt Hustead, Wall
Terry and Sandi Jaspers, Sisseton
Corliss and Anne Johnson, Sioux Falls
James and Ardis Johnson, Brookings
Lynne Jones, Sioux Falls
Phil and Diana Kappen, Sioux Falls
Karen & Keith Kinder, Brookings
Deb and Peter Klebanoff, Baltic
Cheryl Koch, Sioux Falls
Joe and Shari Kosel, Lead
Alan and Kari LaFave, Valley City, ND *
Merle and Virginia Larson, Yankton
Mark Law, Clear Lake
Gerry Berger Law, Clear Lake
Ellen and Tom Lee, Pierre
Christine Leichtnam, Rapid City
Dorothy Liegl, Pierre
Marv Looby, Sioux Falls
Larry and Gail Lyngstad, Pierre
Mark and Kristol McKie, Rapid City
Jim McKinney, Brookings
Jay and Beverly Mickelson, Pierre
Doug and Mary Miller, Brookings
Janice Nicolay, Sioux Falls
Hollis and Marilyn Nipe, Watertown
James and Marilyn Nyberg, Yankton
Dan and Dot O'Connor, Lead
Marcia and Marvin Olnes, Yankton
Rolf Olson & Anne E. Waltner, Parker
Dr. Boyd and Jessica Perkins, Sioux Falls
Ken and Lavonne Pickering, Pierre
Tamara Pier, Rapid City
Ellen Plocek, Spearfish
Gordy Pratt, Spearfish
Kris Reaves, Sioux Falls
Andrew and Rosanne Reinartz, Sioux Falls
Roger and Mary Jo Renner, Yankton
Betsy Rice, Sioux Falls
Patrick Roseland, Rapid City
Monte & Fran Rougemont, Roslyn
Randall & Teri Royer, Pierre
Terry and Mary Ryan, Madison
Kristi Saxlund, Sioux Falls
Daniel and Rebecca Schenk, Fort Pierre
Jeff and Katie Scherschligt, Sioux Falls
Chuck and Bonny Schroyer, Pierre
Lonnie Schumacher, Fort Pierre
Miles and Vickie Schumacher, Sioux Falls
Martha Schumacher, Alexandria, VA
Pamela Sheppard, Kansas City, KS
Clayton and Anella Southwick, Rapid City
James and Cary Speirs, Rapid City
Gary and Nan Steinley, Spearfish
Jack and Linda Stengel, Sioux Falls
Shelley Stingley, Sioux Falls *
Anna Marie Thatcher, Rapid City
Don Theye, Rapid City
Lesta and Mike Turchen, Hill City
Kate and Andy Vandel, Pierre
Dan VanDover, Aberdeen
Karyn Veenis, Sioux Falls
Lynn Verschoor, Brookings *
Hon. Jeffrey L. Viken, Rapid City
James Walker and Jerry Oligmmeller, Bath
Merritt and Pamela Warren, Brookings
Robert and Kathleen Webb, Aberdeen
Kaylyn Welch, Maple Grove, MN
Norma and Jerry Wilson, Vermillion
Mary and Mark Zimmerman, Deadwood
Kristine Wollman, Pierre *
Mike Yaeger, Sioux Falls
Ruth Youngers, Sioux Falls
Steven Zellmer and Kitty Kinsman, Rapid City
Sandy Zinter, Fort Pierre
$250 to $499
John and Anne Barlow, Rapid City
Bonnie and Tim Bjork, Rapid City
Brian and Kaija Bonde, Sioux Falls
Dick Brown, Custer
Sarah Carlson, Pierre
Mary Cogswell, Brookings
Adam Emerson & Dohui Kim, Sioux Falls
William V. Fischer, Fort Pierre
Elizabeth Freer & Michael Headley, Spearfish
Bruce and Nancy Halverson, Sioux Falls
Dody and Boyd Hopkins, Sioux Falls
Larry and Mary Jo Johnson, Pierre
Katrina Lehr-McKinney, Sioux Falls *
Edith Lien, Spearfish
Terri Liermann
Patrick & Bobbi McGowan, Sioux Falls
Jack and Marilynn Mohlenhoff, Sioux Falls
Dennis Navrat, Burbank
Larry and Diane Ness, Yankton
Jim and Sandy Szana, Pierre
Norman and Kathleen West, Yankton
Ron and Glenda Woodburn, Pierre
$500 to $999 
Stanford and Lynda Adelstein, Rapid City
Janet Brown, Sioux Falls
Lynne and Bill Byrne, Sioux Falls
Brian Hildebrant and Laura Diddle, Brookings *
Kris and Steve Egger, Sioux Falls
Rodney Garnett, Spearfish
Mary Hunhoff, Yankton
Scott and Marianne Johnson, Sioux Falls
Dan and Arlene Kirby, Sioux Falls
Jim and Kara Mathis, Sioux Falls
Michael Pangburn, Pierre
Kenny and Linnea Putnam, Rapid City *
John and Jane Rasmussen, Sisseton
Kay Reinartz, Sioux Falls
Jim and Jill Speirs, Sioux Falls
​
$1000+
Dale Lamphere and Jane Murphy, Sturgis *
Deanna B. Lien, Rapid City
Major Gifts
A special thank you to Janet M. Kahler and her daughter Deonne Kahler (Rapid City) for their significant gift to Arts South Dakota. Their belief in a creative South Dakota, and accompanying financial support, will help drive this important work forward.
* denotes Arts South Dakota Board Member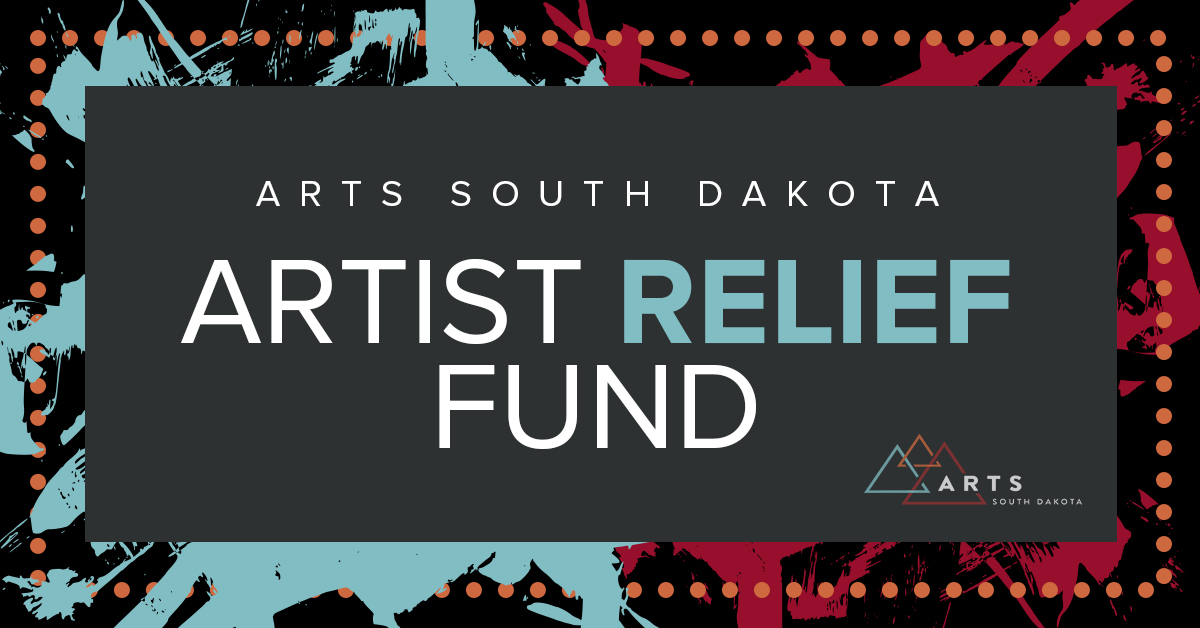 Bush Foundation
Lynne & Bill Byrne
Dan & Arlene Kirby
Jane & John Rasmussen
Jeffrey L. Viken
Fresh Produce
Sioux Falls Arts Council
Wadsworth, Thomas and Hayes Investment Group at RBC Wealth Management
Brian and Kaija Bonde
Mark Bray
Eileen Briggs
Dick Brown
Janet Brown
Susan Burgard
Mike and Judy Connor
Frank Denton
Tony Diem
Rodney Garnett
Chaya & Ryan Bland
Susan Gray
Andrea Harstad
Brigid Hoffman
Dody and Boyd Hopkins
Dr. Craig Howe
Mary Hunhoff
Kristen Jacobsen
Scott & Marianne Johnson
Cheryl Koch
Paula Kurtenbach
Alan and Kari LaFave
Dale Lamphere and Jane Murphy
Brenda Lanphere
Jim and Kara Mathis
John Mogen
Larry Olson
Michael Pangburn
Judith Payne
Kenny and Linnea Putnam
Kay Reinartz
Betsy Rice
John Rychtarik
Jan Speirs
Shelley Stingley
Jennifer Thom
Tom Valentine
Kate and Andy Vandel
Lynn Verschoor
Kristine Wollman
Laura Zabel