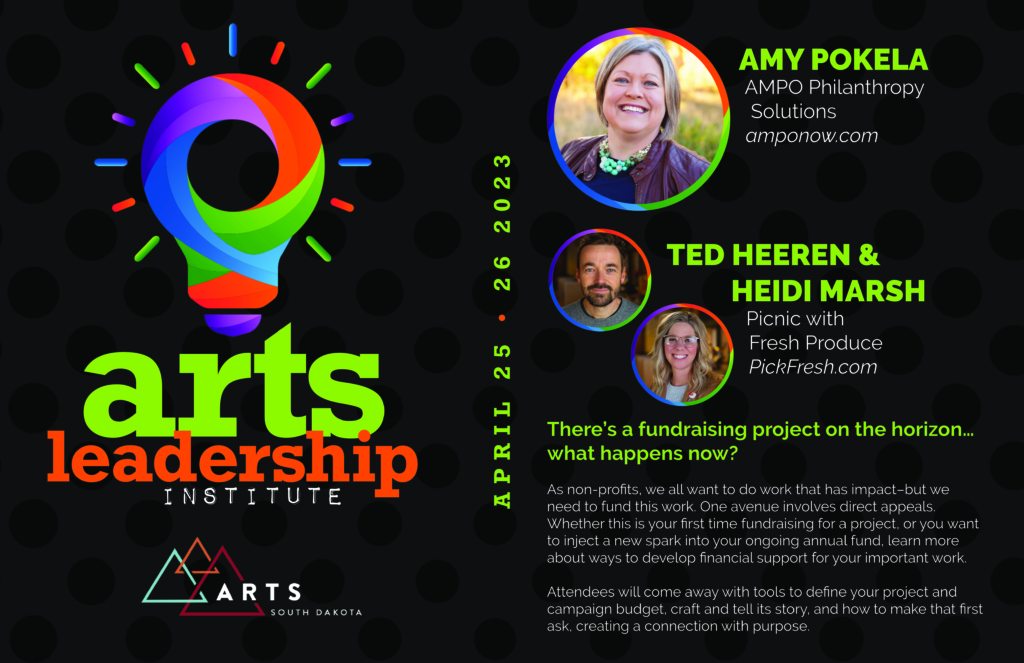 We are thrilled to present the Arts Leadership Institute April 25-26, 2023!
REGISTRATION INFORMATION
A few spots remain! Register today before they fill.
Regular Price Tickets – $215

Arts South Dakota Member Discount – $200

Group Registration – $175 per attendee for 3 or more attendees from the same organization
2023 ARTS LEADERSHIP INSTITUTE
This year's Arts Leadership Institute will be held in person April 25-26, 2023. Featuring sessions designed to support your fundraising efforts, dynamic trainers will work with arts leaders, staff, boards, and volunteers of non-profit creative organizations over two days at the new Startup Sioux Falls building.
Join for learning and opportunities to network with your colleagues, along with helpful resources and follow-up cohorts to help implement what you have learned. Find more information on this year's sessions below.
For questions, please reach out to Community Development Director Andrew Reinartz at Andrew@ArtsSouthDakota.org.
WHAT IS THE ARTS LEADERSHIP INSTITUTE?
Amazing arts and culture projects are happening all across South Dakota, but we are spread out and often isolated from our colleagues. With this program, we want to help support those who are doing the critical work of fostering their local creative communities.
The institute will take place regularly, providing multi-day deep dives into a changing set of topics of interest to many different types of arts organizations and their staff, volunteers, boards, and more. Equally important, they will provide time to gather with your colleagues to help strengthen the arts ecosystem across the state.
COURSE INFORMATION & SCHEDULE
There's a fundraising project on the horizon…what happens now?
As non-profits, we all want to do work that has impact–but we need to fund this work. One avenue involves direct appeals. Whether this is your first time fundraising for a project, or you want to inject a new spark into your ongoing annual fund, learn more about ways to develop financial support for your important work.
Attendees will come away with a helpful workbook, as well as the tools to define your project and campaign budget, craft and tell its story, and how to make that first ask, creating a connection with purpose.
Tuesday, April 25
12:00 Registration opens

1:00-1:30 Arts Leadership Institute Starts – Welcome and Introductions
1:30-3:00 Session 1 – Craft the brand and tell the story of your organization
3:00-3:30 Break, Networking & Guest Presentation
3:30-5:00 Session 2 – Identify your project clearly and create a goal and budget to start and sustain it

Evening – Optional creative excursions and topic-based dinners / dine-around opportunities
Wednesday, April 26
8:00-8:30 Breakfast & Networking

8:30-10:00 Session 3 – Identify donor prospects and natural partners in the community
10:00-10:30 Break, Networking & Guest Presentation (Brienne Maner Startup Sioux Falls)
10:30-12:30 Session 4 – "Conversation with a Purpose" – How to make the ask

12:30-1:00 Wrap-Up Session
TRAVEL STIPEND AVAILABILITY
Need help getting to the in-person events? With the generous support of our partners, Arts South Dakota is able to offer a limited number of travel stipends, to help reimburse a portion of your mileage for your trip. This will cover the state travel rate of $0.51/mi for up to $250 in reimbursement.
To apply for one of these limited slots, please complete this brief application.
REDUCED RATE HOTEL
A limited number of rooms are available at the Holiday Inn Sioux Falls City Centre, 100 West 8th Street, Sioux Falls, SD.
Book online: 2023 Arts Leadership Institute (you must enter the exact date(s) to get the reduced rate.
Call:

605-339-2000; the block is under Arts Leadership Institute (code SDA)
Deadline for $114/night reduced rate: April 10, 2023 – deadline extended!