SUMMER ACADEMY
June 29th – July 21st, 2019
Black Hills State University
Spearfish, South Dakota
Financial Aid Priority Deadline: February 15th, 2019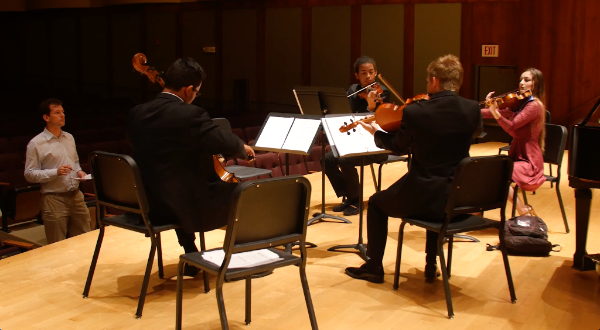 WHAT MAKES THE RUSHMORE MUSIC FESTIVAL UNIQUE?
Rushmore Music Festival's Summer Academy places a strong focus on the individualized learning through a rigorous and intensive environment. Without an orchestral component, the private instruction and chamber music coachings are at the heart of growth for every musician at the Rushmore Music Festival. Every day, students have two designated hours of individual practice time and two hours of chamber music rehearsal, in order to make immense leaps in their development in just three weeks. Students attend weekly faculty concerts with additional opportunities to observe faculty rehearsals, as they prepare for their own performances and the annual Chamber Music Competition.
What sets the Rushmore Music Festival apart from other programs is the integration of supportive classes such as Music Theory & Ear Training, Public Speaking & Acting, Improvisation, and Dalcroze Eurhythmics – all with the intention of giving students a solid foundation of musical concepts, while creating well-rounded, communicative young artists.
Applications are open to intermediate-advanced students ages 12 through college, studying violin, viola, cello, piano, and composition. 
Start your online application today and resume at any time!
---
Summer Academy Highlights
2 hour-long lessons per week
2 hour-long chamber music coachings per week
Weekly studio/performance classes
Annual Student Chamber Music Competition & Awards
Instrumental Application Requirements:
Submit a recent video recording of 2 contrasting pieces that demonstrate musical and technical ability
String students must also submit a recording of two 3-octave major scales of applicant's choosing in half notes (quarter note = 60 BPM)
Completed Online Student Application
$50 Application Fee (non-refundable)
---
Composition Academy Highlights
2 hour-long lessons per week
Computer Notation/Engraving & 20th Century Techniques classes
Workshop and record your composition with RMF Faculty
Collaborate with a student chamber group & premiere your composition
Composition Application Requirements:
2 examples of your composition (sheet music in .pdf format + audio/video recording, midi accepted)
Completed Online Student Application
$50 Application Fee (non-refundable)
---
Program Tuition & Deadlines
$2,950 for On-Campus students (includes Room & Board)
Financial Aid & Merit Scholarships available with priority given to need-based requests.
Financial Aid Priority Deadline: February 15th, 2019
Final Application Deadline: April 1st, 2019
Student Counselors: Full-time and part-time counselor positions for students over the age of 18 are open for the 2019 Summer Academy. This is not a paid position. Benefits include full or partial cover of room and board & program tuition. A complete list of benefits and counselor responsibilities can be found on the Summer Academy application.
---
What are our students saying about their experience at the 2018 Summer Academy?
"The most important thing I learned from this camp is purpose. Being surrounded by top-level musicians and faculty reinforced to me why I want to be a musician and why chamber music has a special place in my heart."
— DANIEL, FLORIDA
"The growth I've had as a player throughout my time here has been astounding! It has been amazing meeting people from all around the country who share my passions."
— MAYCEE, SOUTH DAKOTA
"Music is about how well you can communicate to the audience. This, I believe, will change the way I approach music forever."
— LEAH, WYOMING
---
To learn more about the Rushmore Music Festival, please visit our website. If you have any questions, please contact us at RushmoreMusicFestival@gmail.com or by calling (605) 646-3146.