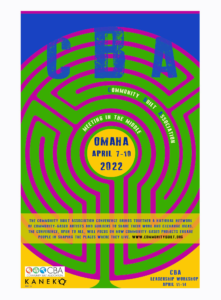 April 7-10, 2022
The CBA is a not-for-profit association of professionals who are involved in all aspects of the community built field. The organization was formed in 1989 to provide network for such professionals and to offer information, education and training to the general public.
Community built may be defined as an interactive process that involves the local community in the design, organization, and creation of community projects. At its heart is a firm belief in volunteerism, empowerment and the value of community. Through this process, CBA members work with local volunteers to create a physical product like a (park, playground, mural, or sculpture). In addition to an attractive and useful final product that becomes an asset for the community, there are many other, less tangible benefits.
This type of community-based process aids community bonding; develops local leadership; fosters community identity, ownership and pride; and empowers both individuals and the community as people experience working together on a cooperative project to see their ideas become reality.
CBA members place an equal value on high quality workmanship and the broad involvement of community volunteers, thereby assisting a community to create a professional product that reflects the needs and desires of the local residents.