TATER TOT & PATTON – Screenings w/ Q&A
March 8 @ 7:00 pm

-

March 16 @ 9:00 pm

CST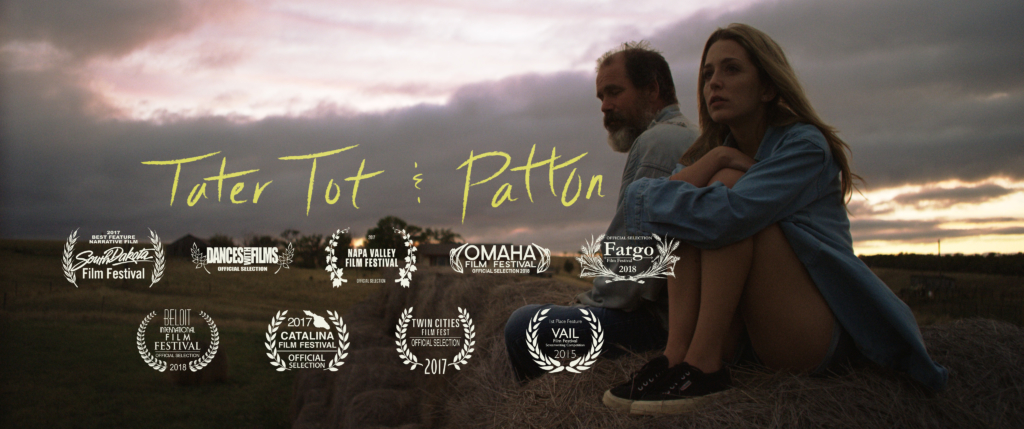 You just saw Jessica Rothe as the star of Happy Death Day and Happy Death Day 2U, now see her in a different type of showcase — a South Dakota drama about a city girl escaping to her cranky Uncle's ranch and together they face the harsh truths of life. It features a CUTE dog too.
"Tater Tot & Patton" was shot on location north of Pierre/Ft. Pierre and made with the local support that extends to every corner of South Dakota.
Starting March 8 in select locations, catch "Tater Tot & Patton" on the BIG SCREEN for one week only. And be sure to keep an eye out for our crazy director and SD-native

Andrew

Kightlinger as he rampages across the state for Q&As.
RUNTIME: 92 minutes
RATING: R for language, alcohol/drug use, and a brief scene of comedic nudity
STARRING: Jessica Rothe (La La Land, Happy Death Day, Forever My Girl), Bates Wilder (Joy, Mystic River)
WHERE CAN YOU FIND IT?
March 8 – One Week Only
Pierre, SD – State 123
Sioux Falls, SD – Wells Fargo CineDome
Mitchell, SD – Luxury 5
Huron, SD – Luxury Cinemas
Spearfish, SD – Northern Hills Cinema
Brookings, SD – Cinema 8
March 12 – One NIGHT Only
Mobridge, SD – Mac Theatre
March 15 – One Week Only
Aberdeen, SD – Capitol Theatre
Watertown, SD – Odyssey 8