For the next three months, Hill City art gallery Warrior's Work is inviting the public to view and take part in the making of a six-foot stained glass project that will reflect the history and essence of "The Heart of the Hills."
The public art installation, supported by the Black Hills Film Festival working in cooperation with the Hill City Area Arts Council, the Hill City School System and the City of Hill City, is made possible by a grant from the South Dakota Arts Council. Once finished, the piece will be movable for display at Hill City's public spaces.
Mackenzie Swanson, the artist leading the project, will also conduct workshops in November for adults and students who would like to participate in exploring stained glass art. Registration information will be announced soon.
A video documentary of the project, its impact, and interviews with community members is being produced by videographer Randal Iverson. The video will provide safe viewing access for all on the Black Hills Film Festival Channel.
Art and events that unite the Hill City community are a tradition here – examples include public sculptures like "Patriarch" by Peggy Detmers and "Iron Star" by John Lopez downtown, and events like the Sculpture Show. With the canceling of art events and no new public art projects in recent years, we again looked to the arts to revitalize community spirit around a shared goal.
While at Warrior's Work viewing the Stained Glass creation, check out "Buffalo Blues," the original watercolor by Black Hills Area Artist Sarah Rogers, which will be raffled off during the 12th Annual Black Hills Film Festival in February. The purchase of a $10 raffle ticket provides the chance to own this beautiful original worth close to $3,000. Proceeds from the Raffle will help implement the Black Hills Film Festival streaming channel promoting South Dakota films, filmmakers and other great independent films from around the world.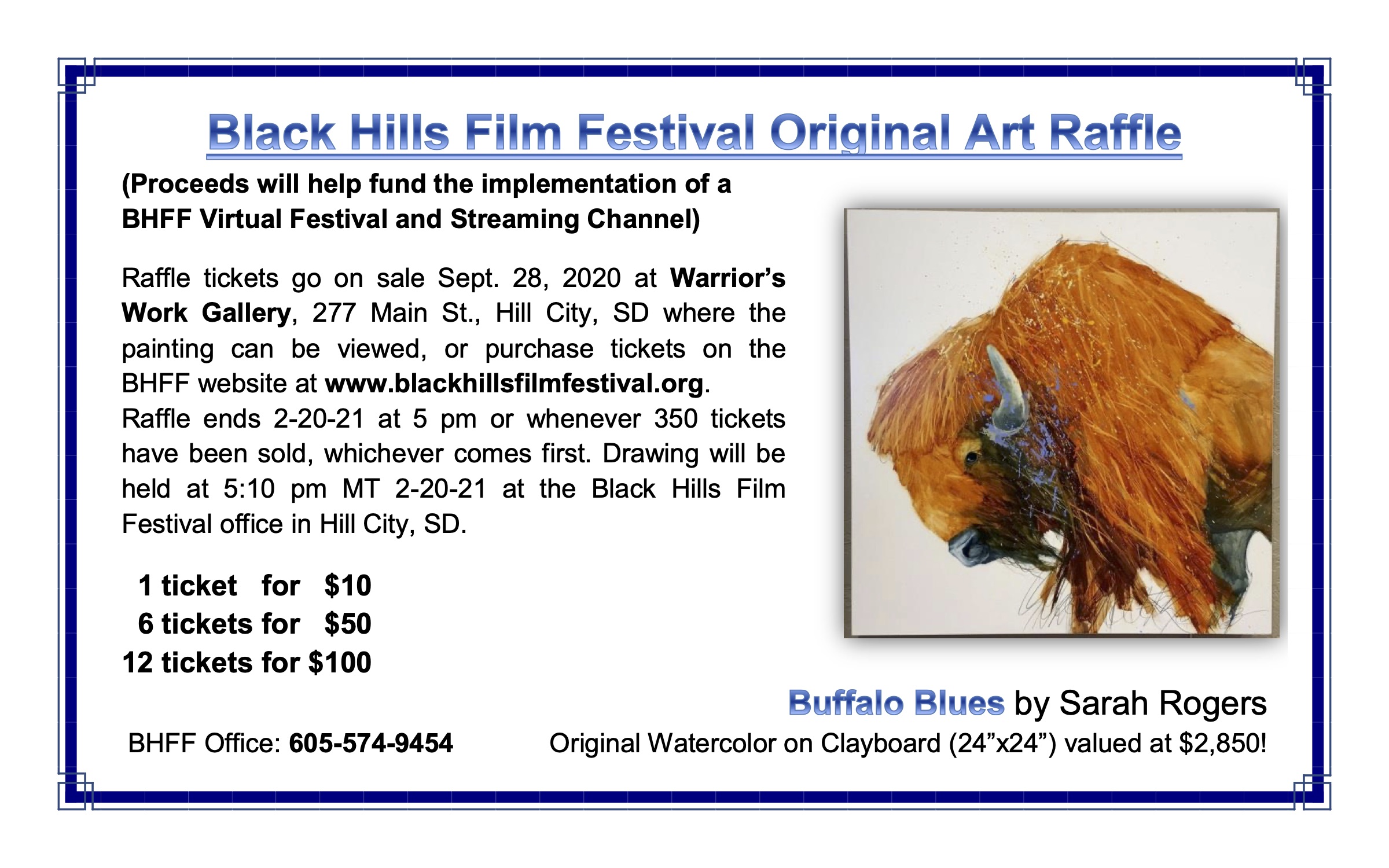 For more information about supporting local Art and Film Projects or to purchase Raffle
Tickets, go to www.BlackHillsFilmFestival.org.
Chris VanNess, Executive Director
PO Box 396
Hill City, SD 57745-0396
Follow us on Facebook BlackHillsFilmFestival, Twitter @BHFilmFest, Mobile app,
Phone: 605-574-9454