By Jim Speirs, Executive Director, Arts South Dakota
When 12 high school students took their turns reciting poetry on stage in Sioux Falls during the Poetry Out Loud state championships, they were dramatizing the power of the arts. Each student stood in the spotlight, bringing words to life with stunning confidence. Each student had chosen—or written—a poem, competed in a local contest and brought their skills to the state competition in a bid to advance to Washington DC, representing South Dakota at the national level.
Gage Gramlick from Lincoln High School in Sioux Falls was the first place winner for a second consecutive year, earning a return trip to the national competition. Nancy Flaherty, representing Watertown High School, was the second place winner. Gramlick's coach is Sara Klawonn, and Kris O'Brien coached Flaherty to the state contest. Congratulations go to students and teachers for participating in Poetry Out Loud and illustrating the creative excellence of South Dakota students.
Poetry Out Loud is a nationwide poetry competition for high school students initiated and supported by the National Endowment for the Arts and the Poetry Foundation. The South Dakota Arts Council, Arts South Dakota and South Dakota Public Broadcasting sponsor the event in our state.
To the next generation of literary readers, recitation and performance are the latest trends in poetry. Poetry Out Loud builds on the resurgence of poetry as an oral art form, demonstrated by the slam poetry movement and the popularity of rap music among American youth. The program encourages high school students to learn about great poetry through memorization, performance and competition. With their participation in Poetry Out Loud, students master public speaking skills and build self-confidence.
That connection between the arts and life skills is the essence of arts education programs like Poetry Out Loud. By tapping into the creativity of our students, we build a brighter future for them and for our state. To learn more about Poetry Out Loud and to encourage students in your community to participate, go to www.poetryoutloud.org or www.artscouncil.sd.gov. Whether you are an artist, arts advocate or want to learn more about the arts in South Dakota, visit www.ArtsSouthDakota.org.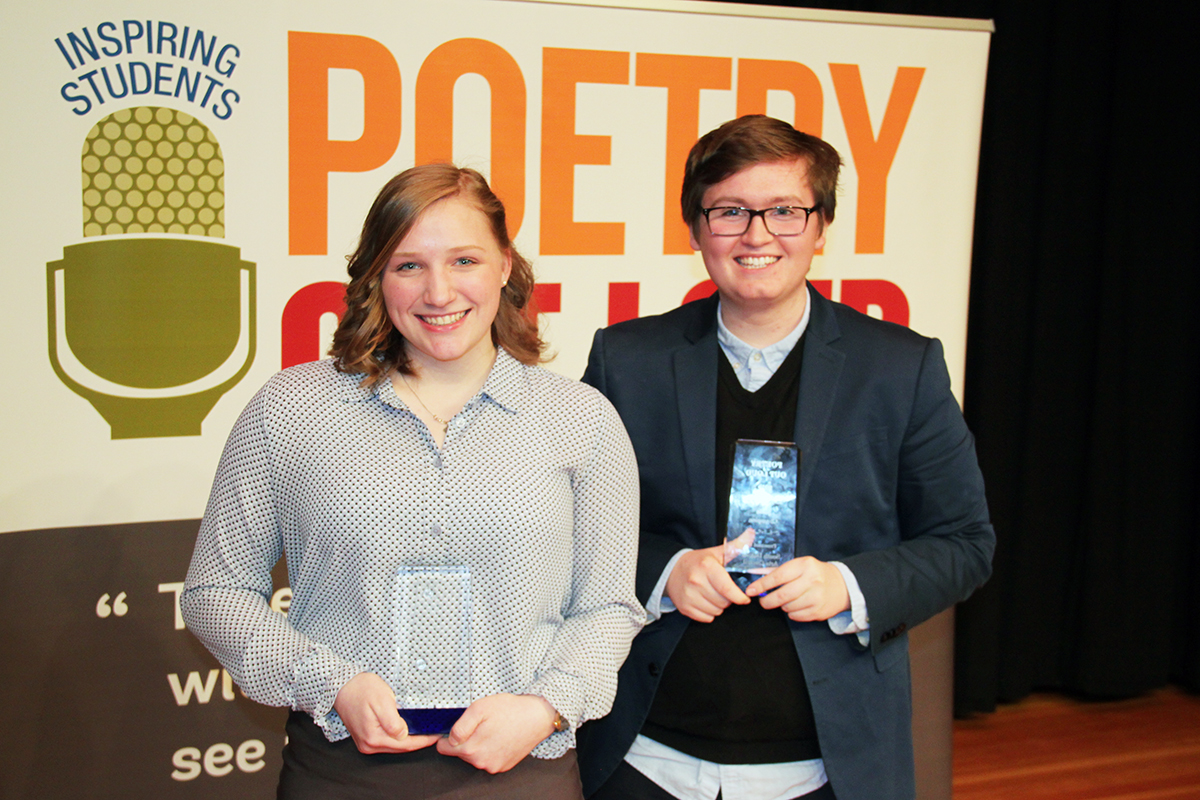 pictured (l to r): Nancy Flaherty, Watertown High School (2nd place) and Gage Gramlick, Lincoln High School, Sioux Falls (1st place)